Collaboration between daily chemical companies and small character industrial inkjet printers
The application of inkjet coding machine in various industries has become more and more extensive, such as the daily chemical industry production lines, basically using the inkjet coding machine for logo printing of the Product Information. Developing a suitable code spray identification solution is crucial for manufacturers; Of course, the most important thing remains whether the code-spraying technology is excellent.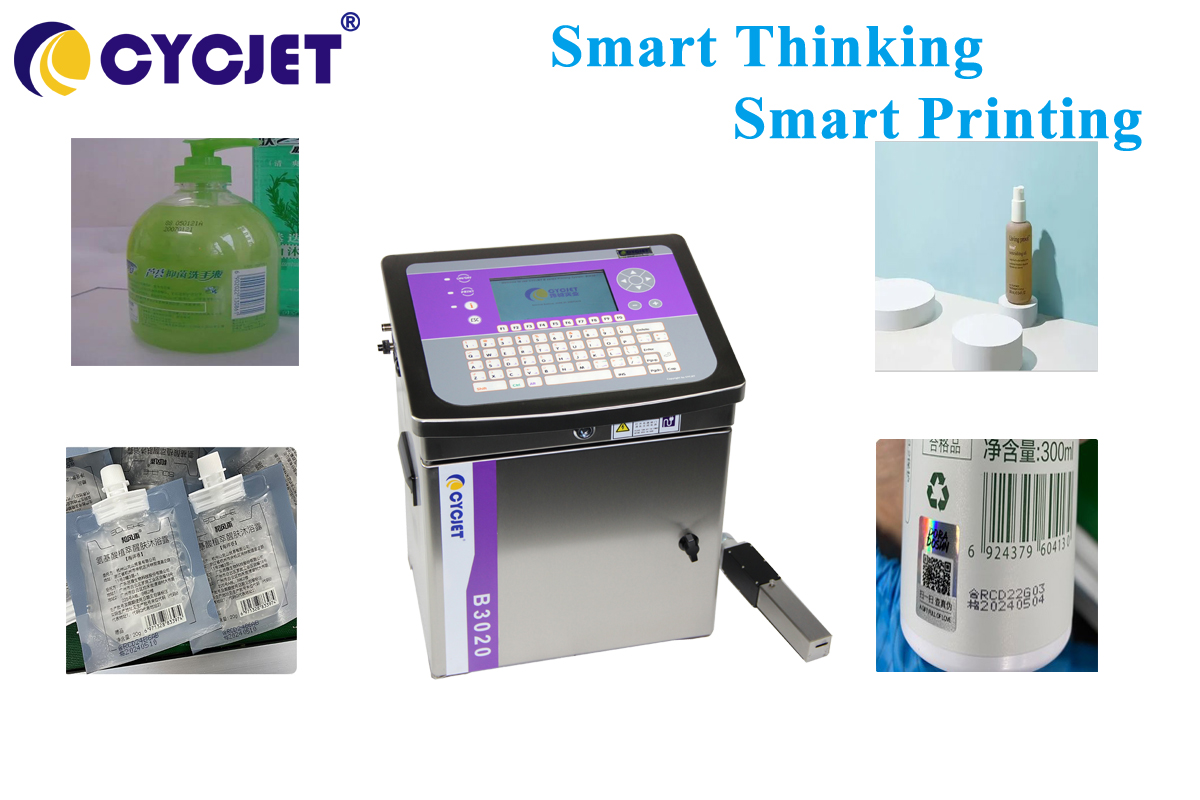 At present, the main difficulties of code spraying technology in the daily chemical industry are:
1. Identify on the surfaces of several different materials. Various packaging materials and identification of daily chemicals with different contents in different materials. For example, the inkjet code requires a number of sprinkler models applicable to different requirements, including small character sprinkler heads that can achieve extremely high identification quality and must be provided as needed; Select laser machines with contrast, definition and height adjustment for precise identification effect.
2. The quality of spray printing, whether to get a high-quality and clear logo, the quality of spray printing is the concern of production companies. Code jet ink adhesion is often an important benchmark for ink selection. On high-finish, high-density surfaces, it is advisable to select high adhesion inks, generally to choose general ink. For products to be packaged immediately after spraying the code, the drying time of the ink is particularly important. Quick-drying ink can be selected, and the air dryer can also be added to speed up the ink drying.
3. Suitable for harsh production environments and strict hygiene requirements. Daily chemical manufacturers should consider, when choosing the code injection machine, the performance of resistance to high temperature, high humidity and high dust content.
At present, the code injection technology in the market is becoming more and more advanced, in the face of every technical difficulty, each spraying code machine manufacturer has its countermeasures, so it can be seen that the printer application small character industrial inkjet in the daily chemical industry will be used more and more.
CYCJET solutions are widely used in a variety of daily chemical production lines, including bottle packaging, glass packaging, carton packaging, etc., from primary packaging to outer packaging, and then to batch packaging , etc.
Cosmetic packaging often varies in both material and shape, and this CYCJET B3020 code printer has made a specific design. Aerosol printing requirements range from simple production date, validity period, and batch number to identifiable barcode and QR code to meet traceable identification requirements. Can be sprayed in small areas, precise positioning.
CYCJET is the trademark of Yuchang Industrial Company Limited. As a manufacturer, CYCJET has more than ten years of experience for wholesalers and retailers of different kinds of handheld inkjet printing solutions, laser printing solutions, portable marking solutions in Shanghai China.
Contact person: David Guo
Phone: + 86-21-59970419 ext 8008
MOB: + 86-18837825869
Email: cycjet08@cycjet.com
Keywords:
Small character industrial inkjet printer
Inkjet coding machine
Inkjet printing machine
Online inkjet pritner
Industrial inkjet printer
Inkjet coder
Working video: