Coding in the pipeline industry, laser coding machine is indispensable.
The country has strict requirements for the marking of the pipe industry, and the code of inkjet on plastic pipes has been applied successfully for some time. The development of identification technology, so that the code team of inkjet in the pipeline industry has also been a considerable development. The traditional marking equipment used in the pipeline industry generally adopts an inkjet printer. Now, in the face of fierce market competition and the pipeline company's own inkjet coding demand, the inkjet coding machine has failed to improve the pipeline industry's inkjet coding. the application of laser inkjet coding machine so that the pipe industry logo has entered a new stage of development. So when exactly to use the inkjet printer? When to use the laser injection printer?
The pipe industry plastic pipe is generally divided into two types, one is straight pipe, the other is PVC electric threaded pipe (usually a production of two or four), PVC-U drain pipe, PVC pipe. cold and hot water PPR, high-density PE pipe, PPE, PE and other communication pipes, generally cutting a length of 4-6 meters of different colors The coil to be sprayed generally includes special PE water pipe, hose PE, PE-X PERT and other special pipes for heating solar energy, soft PVC pipe (reinforced pipe) and so on. These winders need to be sprayed with the print length, that is, with a spray gauge.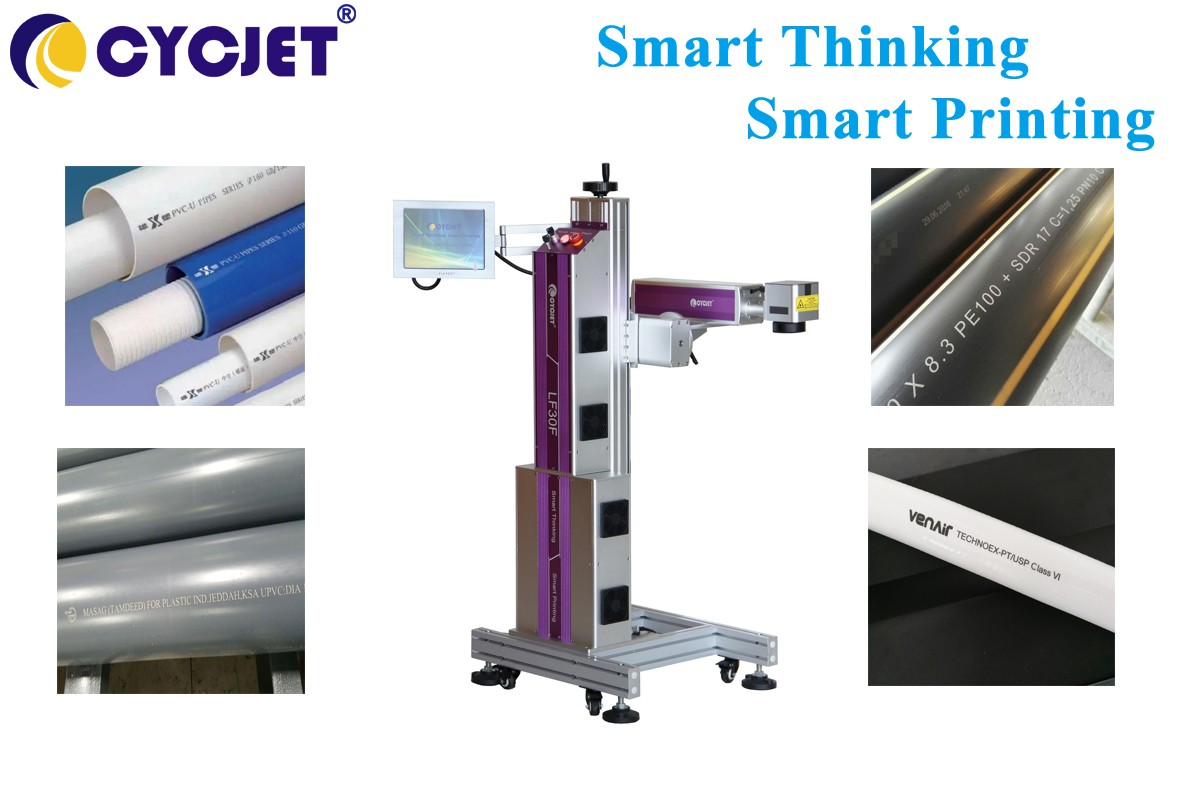 For different pipes, the type of inkjet printer used is also different.
Threading tube inkjet printer should adopt inkjet printer and nozzle moving device, so that one inkjet printer can print 1 to 4 tubes at the same time, improving the rate of Products utilization Drainage line and threading pipe are the same, the production workshop is like a flour mill, please use a production line.
PE pipe printing and drainage are slightly different, because the PE pipe is black, generally for blasting, the code needs to be sprayed white or yellow, which further improves the requirement of the printing machine, because the white ink printing machine and the yellow ink to blast the code machine fails, so ordinary printing can not be used, improved, you need a professional white ink printing machine and the printing machine of yellow ink.
Hose and all kinds of plastic coil coding machines mainly need a gauge, if the gauge requires precise use of the encoder, the use of laser encoding machine can be fully realized .Laser inkjet printer is The leading brand in the industry for both functional perfection and machine stability.
Contact person: David Guo
Phone: + 86-21-59970419 ext 8008
MOB: + 86-18837825869
Email: cycjet08@cycjet.com
Keywords:
Automatic large character inkjet printer
digital inkjet printing machine
Online large character coding machine
CYCJET C700 outer packaging inkjet printer
Working video: